PRODUCT INTRODUCTION
This ammo vest is great for tactical training, combat, assualt, shooting training and CS. A great choice for you in paintball, airsoft and other outdoor activities, even on duty.
PRODUCT DETAILS
Multiple pockets including knife pouch, tripple mag pouch, medical bag and radio pouch.

Webbing molle plug-in system can attach hydration bag and other personalized items.

30cm extra rescuse thick padded handel.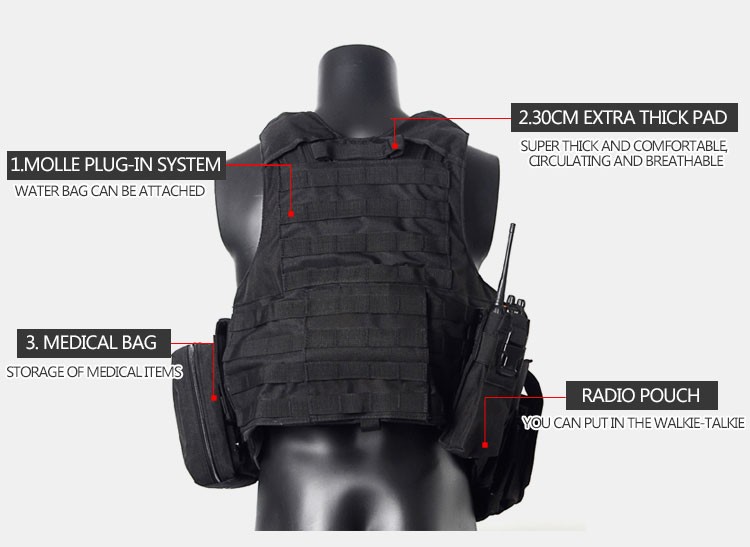 WHY CHOOSE US?
Guangzhou Yakeda Outdoor Travel Products Co., Ltd, established in 2006, is a professional manufacturer and exporter that focus on the development and production of military, tactical,and outdoor products.
Now we have 3 factories in China & Myanmar and 1 overseas warehouse in USA,with over 2000 employees,105 production lines and 16 years experience. We have all kinds of advanced machines and raw materials available for different custom requirements.
YAKEDA continues to introduce innovative products and services specific to Government, Military and Law Enforcement customers. We sincerely look forward to your visit and cooperation!
1.Are plate carriers stab proof?
Now, if you are carrying hard armor level III or level IV plates in plate carriers, they will probably stop an attack from a knife, however soft body armor and level IIIa bulletproof vests, won't be much help.
2. What plate carrier does the USMC use?
TheYakeda Plate Carrier is a plate carrier used by the United States Marine Corps as an alternative to the heavier Modular Tactical Vest (MTV).
3. Is it healthy to wear a weighted vest?
Weighted vests have been used to improve running speed, endurance, and muscular strength. They can also help increase the number of calories burned and maintain bone mineral density.